Remember that time you were on hold with your insurance company for what felt like an eternity and once you finally got to speak to a human being you were bombarded with phrases like "diagnosis code," "pre-approval of benefits," "in-/out-of-network," "family/individual deductible," and "denial"? I have that phone call about every three weeks. 
One of the hidden parts of parenting a kiddo with a special need is how quickly you become an expert on everything related to your kid, including how to navigate an insurance company.
For example, you've probably seen pictures of Liam using his NovaChat speech generating device. The process of getting that device has now stretched into its sixth month and it's not over.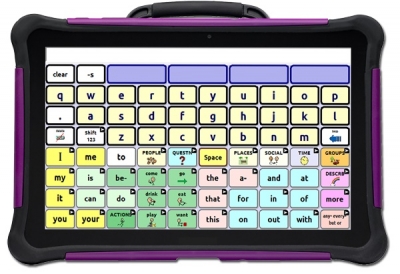 We started in November when we got on a wait list to get an assistive technology evaluation. We had the evaluation and recommendation in January. Then we got on two more waiting lists. Four weeks later, we got a trial device.
After four weeks with that device, we filled out form after form, wrote report after report, and submitted 18 pages of documentation to the company who makes the NovaChat who would process the request and forward it to the insurance company.
Why? We had to prove that our non-verbal kiddo needed a speech generating device. Right.
Two weeks after that, we got our second loaner so Liam could continue using a device while the insurance company processed our claim (if you're keeping track, this was waiting list number two from January and we were on it for ten weeks).
At the same time, every Monday I called NovaChat to see if they had processed our request. Five Mondays later, they had.
Then I started calling our insurance company and just this morning received confirmation that they approved the request and would send prior approval back to NovaChat in a few days.
But now our loaner device is due back on Friday, so I had to contact that organization and ask for an extension, hoping that by the time the second due date rolls around, the insurance company and the NovaChat company have sorted all the paperwork out, we've scrounged up our deductible, and Liam has his very own NovaChat 10 (and if you're wondering, the device costs a whopping $5900). I'm hoping it'll all be done in about another month, for a total of seven months and hours of work, phone calls, and filling out forms.
This is why non-profit organizations like IATP (Illinois Assistive Technology Program), Easter Seals, and TAP (The Autism Program) are so crucial because they help point parents in the right direction and give them resources to navigate the maze of funding sources for getting their kids the help they need.This is the part of parent a kiddo with #autism that is invisible, but absolutely necessary.
#autismawareness